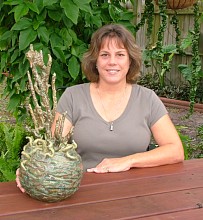 Pam Moody was born in Sarasota, FL in 1963 and grew up along the "Treasure Coast" in the town of Ft. Pierce, FL. Her rural upbringing along the Atlantic coast afforded her the opportunity to study, and personally interact with the abundant marine and wildlife prevalent in the area. As a child, she spent countless hours with her family in and on the Indian River and Atlantic Ocean, exploring the many islands, boating, fishing, swimming and playing in the woods surrounding her home. To this day, these experiences remain a major influence in her work.
Her first exposure to working with clay came in high school, where she enjoyed learning from a devout teacher along with a very small and talented class of art students. After graduating from Westwood High School in 1981, Pam moved to Tampa, FL to attend Tampa Technical Institute, where she earned a degree in Commercial Art. She met, and married Bob Moody, with whom she has two extraordinary daughters. After many years of working for a major graphic arts supplier, by 2001 she had the opportunity and desire to leave the corporate world in order to resume her love of the ceramics arts as a hobbyist. A short time later, with the staunch support of her family, she devoted herself full time to the ceramic arts. The subsequent years have been used to hone her skills, build a quality inventory, and strive to master the many technicalities of this art form. To date, Pam resides in the Citrus Park area of Tampa with her family.
As a native of Florida, her foremost attention as a ceramic artist has been focused on the indigenous and invasive species of the state. She is interested in creating these species in a realistic format, as well as presenting them in a non-traditional, humorous, or out of context state. Pam is self-taught in the ceramic arts and hand-builds all of her works from stoneware and earthenware clay bodies using sculpt, slab, and coil techniques. Her work is then fired in an electric kiln. To complete the process she hand-glazes each piece using multiple commercial glazes to achieve unique and unpredictable results. Each piece is one of a kind, and is original in thought and design.